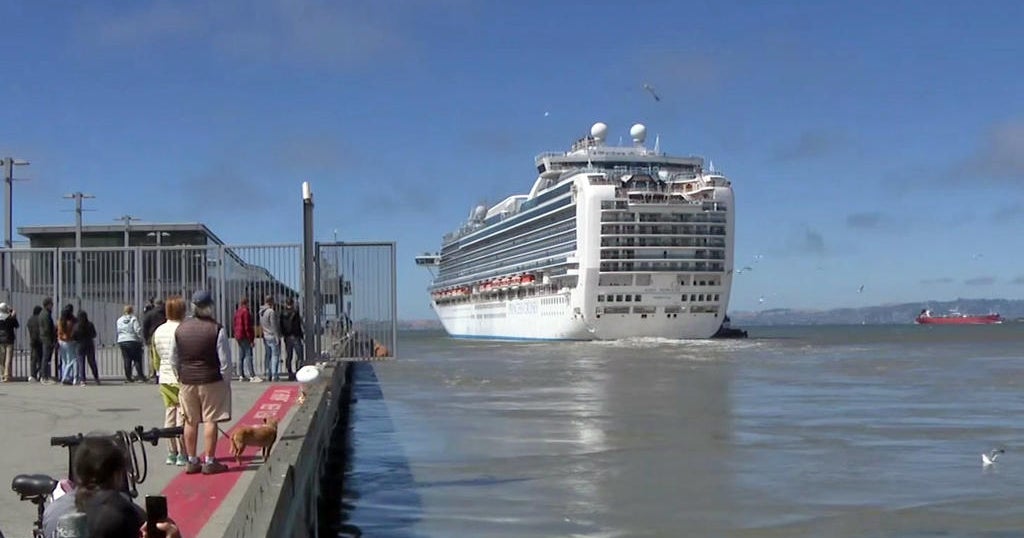 SAN FRANCISCO — On Sunday, the Coast Guard gave clearance for the Ruby Princess cruise ship to leave San Francisco and it cast off at 3:45 p.m., ending an unscheduled 3-day stay in the city.
Earlier in the day, officials with Princess Cruises said that repairs to the punctured hull which forced the ship to remain at Pier 27 over the weekend were certified.
"Princess Cruises can confirm that repairs on Ruby Princess have been completed, and following inspection and certification by the United States Coast Guard the ship is safe and fit to sail," the cruise line said in a statement. 
If you're going to get stuck somewhere on vacation, San Francisco isn't a bad place to do it.  On Thursday, the Ruby Princess was damaged when it struck the dock while landing at Pier 27, punching a hole in the side. For the next few days, the disabled ship became something of a tourist attraction of its own.
"It could have been worse, right?" said passenger Kat Hanson. "We could be in the middle of the ocean and, God forbid, something could have been worse."
The hole was patched and repainted and, while that was happening, a few thousand accidental tourists got to explore the City by the Bay.
"We actually had a chance to go to Embarcadero and Pier 39 shopping center," said passenger Linda Wong. "This is like an extra shore excursion for us, right? But it's free. So, pretty good. We bought some souvenirs also."
Most passengers aboard the vessel remained upbeat, despite their planned trip being shortened by three days. Passengers got their money back if they wanted to leave and those who stayed get a 75 percent discount on a future cruise.
Princess Cruises said they would be departing with 2,677 guests aboard and a crew of 1,161, or roughly one crew member for every two passengers.
Stuart Sousa was willing to stick it out but he wasn't happy that they'd only be visiting the cities of Ketchikan and Prince Rupert before heading home.
"So, we'll only go to one city in Alaska and one city in Canada and then we're coming back," Sousa said.  "We were hoping to see the glaciers and all that but we already had this time scheduled."
But Emil and Seda Dzhandzhapanyan had decided to focus on the positive and, during their stay, they had a blast.
"Free food!  Free hotel!  Everything — entertainment — everything!" Emil exclaimed.
The Ruby Princess embarks on a 7-day Pacific Northwest/Alaska cruise, visiting Ketchikan on July 12 and Prince Rupert on July 13, returning to San Francisco on July 16 for disembarkation as originally scheduled. It had been scheduled for a 10-day journey prior to the accident that damaged the vessel Thursday.
Oakland resident and passenger Bleacher Dave, as he's better known, shared photos and videos of people enjoying the pool and socializing during the last 24 hours.
This was his first post-pandemic cruise and it will be his first time seeing Alaska.
"So the first thing I thought … was get me off of this thing, because we live in Oakland," Bleacher Dave said, describing his initial reaction upon hearing the announcement. 
Last year, the Ruby Princess was in the headlines after returning to San Francisco from a cruise to Mexico with passengers testing positive for COVID-19.