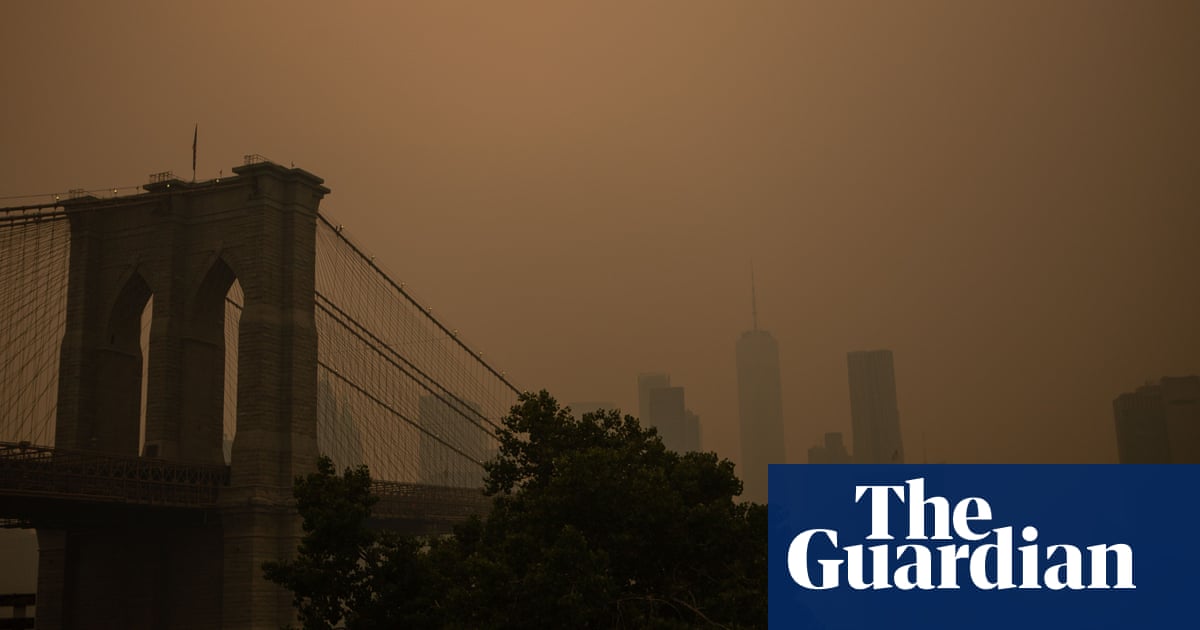 As the wildfires in Canada continue to shroud much of the midwest in a thick haze of smoke, New Yorkers are preparing yet again for the smoke to make its way further east.
On Tuesday, the New York governor, Kathy Hochul, issued a warning on social media that the smoke from Canadian wildfires is forecast to enter New York airspace on Wednesday and Thursday.
"Air quality is expected to reach unhealthy levels in some areas," she wrote, adding that the New York state department of environmental conservation (NYSDEC) is "issuing air quality health advisories for western and central New York, and eastern Lake Ontario".
Per the NYSDEC, air quality levels will be "unhealthy" on Wednesday in the western New York region and "unhealthy for sensitive groups" on Wednesday in central New York and eastern Lake Ontario regions.
Those in New York City and on Long Island can expect "moderate" air quality on Wednesday.
New York City's mayor, Eric Adams, suggested in his own message on social media that anyone venturing outside on Wednesday or Thursday should "bring a KN95 or N95 mask" or avoid making outdoor plans.
The organization implores those impacted to use mass transit to reduce air pollution, turn off lights and appliances when not in use, close their blinds to "limit heat build-up and to preserve cooled air," and more.
Earlier this month, New Yorkers all over the state were engulfed in smog after Canada's wildfires drifted south. The smoke affected the air in more than a dozen US states and put more than 50 million people under air quality alerts.
Researchers previously told the Guardian on 7 June, the US had experienced its worst toxic air pollution in recent recorded history and were exposed to levels of pollution that were more than five times above the national air quality standard.
The Canadian Interagency Forest Fire Center (CIFFC) has said their ongoing wildfire season is the worst on record, per Accuweather. More than 19 million acres have burned, a number that is only growing.